How to Register to Use the Commonwealth Courts Portal
(General federal law)
The following guide covers use of the Commonwealth Courts Portal (CCP) for General Federal Law matters (both the Federal Court and the Federal Circuit and Family Court). While some of the information is also relevant to family law matters a more detailed guide covering family law is available from the Federal Circuit and Family Court of Australia's website.
Step 1: Register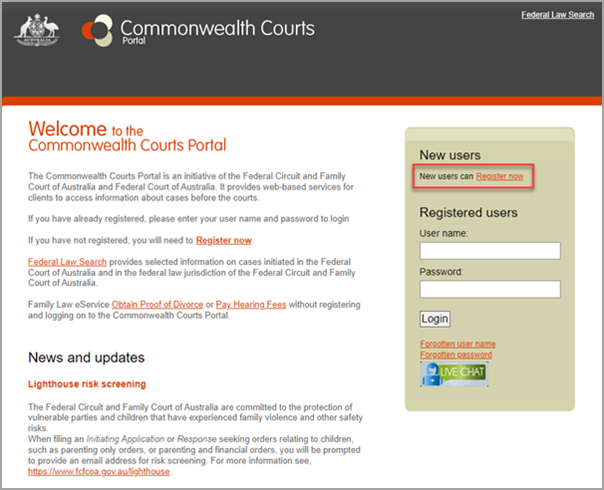 Solicitors, law firms and their support staff must register as individuals with their own username and password.
Step 2: Access your files
After registering the homepage will display options for file access on the right hand side.
If you are a solicitor you need to select 'Request access to your organisation'. This function can also be accessed by selecting 'Your profile' at the top right of your screen, once logged in. The person listed as the Portal Administrator in your law firm will be notified by email that access has been requested and requires approval. If your law firm is not on the list, you will need to register the organisation. The Portal support team will then contact you to confirm registration.
If you are a party to a file you will need to link to your file. Select 'Request access to your file' and enter your Client ID and file number. If you do not know your Client ID call 1300 352 000 or email your full name, other parties name, date of birth and address to support@comcourts.gov.au. The National Enquiry Centre will send your request to the relevant Federal Court registry to obtain the correct client ID and file number for General Federal Law matters (both FCA and FCC).
If you are a barrister and have been briefed by a law firm, you can request access to the law firm's files by selecting 'Request access to another organisation's files'. Type the name of the law firm you require access to, select the organisation and select 'Request access'. If you are unable to find the law firm's name this means they are not registered with the Portal. Contact them and ask them to register.
In General Federal Law, organisations (such as the ATO) that are litigants in proceedings and want to link barristers should call 1300 352 000 or email support@comcourts.gov.au and access will be arranged.
Now that you have registered, you can …
View your files
All Family Law and General Federal Law files that you are linked to can be viewed as a list in the 'Available Files' tab or by typing the file number or matter name into the 'Go to File' field.
Organise your files
Keep track of your 'Available Files' by selecting the star feature. This file will then be displayed in the 'Starred' sub tab.
View recent activity on your starred files
Once starred, files with recent activity, such as a document being lodged by another party, will appear in the 'Recent Activity' section of the homepage. If you select this menu you can also see how many court events are happening for you in the coming week.
View a court diary of your files
In the 'Court Diary' tab select a date and view court events up to 14 days from that date. In this section you can focus on starred or all available files.
View court events, orders and documents filed on a specific file
Select a file number in the 'Available Files' tab to display each application on that file. Each application displays information in the following categories: Court Events and Orders, Documents Filed, and Parties.
Select the 'plus' tab to maximise further information in each category and 'minus' tab to minimize.
Each document filed is represented in chronological order, displaying the form name and person filing. Documents that have been eLodged can be viewed by selecting the PDF icon on the right.
Opt-in to activity notifications via email
After selecting a file you will notice an option to 'Notify me by email of activity on this application'.