Videos
Serving on a Federal Court Jury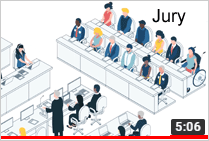 Jury service is one of the most important rights and responsibilities that we have as members of the Australian community. Juries are used in all criminal trials in the Federal Court. A jury is made up of people chosen on a random basis from the general community. The jury is responsible for deciding whether or not the accused person is guilty.
This program (link to YouTube) shows how jury service works in the Federal Court.
Duration: 5:06 minutes | July 2019

---
Mediation in the Federal Court of Australia
The Federal Court of Australia has a high success rates in mediations.
A mediation is conducted around a table - not in a court room. An independent person - the mediator - helps the parties to identify and assess options so they can negotiate an end to their dispute.

This program (link to YouTube) shows in detail how mediation works and highlights the critical role played by the mediator.

Duration: 31:31 minutes | October 2014


---
Archive of judgment summaries
In certain matters of public interest before the Court, it is usual for an explanatory statement or summary to be made.
Judgment summaries are made to assist in understanding the principal conclusions reached by the Court, but are necessarily incomplete. The only authoritative pronouncement of reasons is that contained in the full reasons for judgment. In all cases below, a link to the full text of the full reasons for judgment is provided in addition to the judgment summary.
At 9.15 am on Tuesday 3rd August 1999, the Federal Court of Australia became the first Australian court to broadcast live streaming video and audio of a judgment summary over the Internet. The case was Australian Olympic Committee Inc v Big Fights Inc [1999] FCA 1042.
The Court is keen to continue to improve public access with the use of live streaming video/audio. Further live and archived broadcasts of judgment summaries are posted on this page as they become available.
How to use streaming video/audio
Viewing videos on your computer is only possible if you have video playing software installed. Windows Media Player is one such software program and is free to download. Use the link below to download Windows Media Player.
---
WARNING: Some of these videos may contain the images of some Aboriginal people who are deceased. Viewing these may cause offence to some people, and the Federal Court apologises for any distress inadvertently caused.
---
Judgment
Director of the Fair Work Building Inspectorate v Automotive, Food, Metals, Engineering, Printing and Kindred Industries Union [2013] FCA 82
Justice Marshall
14 February 2013

[3.48 mins | 14 MB ]

Video | Judgment and summary | Video transcript
National Rugby League Investments Pty Limited v Singtel Optus Pty Ltd [2012] FCAFC 59
Justices Finn, Emmett and Bennett
27 April 2012

[6.24 mins | 25 MB ]
Singtel Optus Pty Ltd v National Rugby League Investments Pty Ltd (No 2) [2012] FCA 34
Justice Rares
1 February 2012

[10.24 mins | 33 MB]
Comcare v Commonwealth of Australia [2009] FCA 700
Justice North
30 June 2009

[7.51 mins) | 32 MB]
Lansen v Minister for Environment and Heritage [2008] FCA 903
Justice Mansfield
13 June 2008

[8.06 mins | 17 MB]
Wilderness Society Inc. v The Hon. Malcolm Turnbull, Minister for the Environment and Water Resources [2007] FCAFC 175
Branson, Tamberlin and Finn JJ
22 November 2007

[5.35 mins | 65 MB]
Australian Competition and Consumer Commission v Visy Industries Holdings Pty Limited (No 3) [2007] FCA 1617
Justice Heerey
2 November 2007

[1.40 mins | 4 MB]
Seven Network Limited v News Limited [2007] FCA 1062
Justice Sackville
27 July 2007
[video supplied by Sky News]
[32.26 mins | 125 MB]
Bennell v State of Western Australia [2006] FCA 1243
Justice Wilcox
19 September 2006
[26.45 mins | 28 MB]
AWB Limited v Honourable Terence Rhoderic Hudson Cole [2006] FCA 571
Justice Young
17 May 2006

[9.05 mins | 9.5 MB]
Mervyn on behalf of the Peoples of the Ngaanyatjarra Lands v State of Western Australia [2005] FCA 831
Chief Justice Black
29 June 2005
[23.13 mins | 222 MB]
De Rose v State of South Australia (No 2) [2005] FCAFC 110
Justices Wilcox, Sackville and Merkel
8 June 2005

[15.52 mins | 16.5 MB]
Wik Peoples v State of Queensland [2004] FCA 1306
Justice Cooper
13 October 2004

[11.50 mins | 12.3 MB]
McCrea v Minister for Customs & Justice [2004] FCA 1273
Justice North
6 October 2004

[4.30 mins | 4.7 MB]
Nangkiriny v State of Western Australia [2004] FCA 1156
Justice North
8 September 2004
[16.12 mins | 17 MB]
Ferneley v Boxing Authority of New South Wales [2001] FCA 1740
Justice Wilcox
10 December 2001
[4.53 min | 3.6 MB
North Australian Aboriginal Legal Aid Service v Bradley [2001] FCA 1728
Justice Weinberg
7 December 2001

[10.44 min | 8 MB]
In the matter of Ansett Australia Limited and Mentha [2001] FCA 1439
Justice Goldberg
12 October 2001

[10.43 min | 8 MB]
Chapman v Luminis Pty Ltd (No 5) [2001] FCA 1106
Justice von Doussa
21 August 2001

[11.14 mins | 9.6 MB]
North Australian Legal Aid Service Inc. v Bradley [2001] FCA 908
Justice Wilcox
24 July 2001

[9.11 mins | 7.88 MB]
Australian Industry Group v Automotive Food Metals Engineering Printing and Kindred Industries Union [2000] FCA 708
Justice Merkel
29 May 2000
[6.17 min | 23 MB]