Home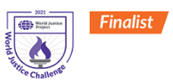 Finalist of the World Justice Challenge 2021
PJSI was a finalist in the World Justice Challenge 2021: Advancing the Rule of Law in a Time of Crisis competition!
Check out our project page external link.
4th Chief Justices' Leadership Forum
Koror, Palau 1-3 April 2019
Back row (left to right): Chief Justice Craig Coxhead, Chief Justice Sir Gibbs Salika, Lord Chief Justice Owen Paulsen, Justice Daniel Goundar, Chief Justice Vincent Lunabek.
Front row (left to right): Chief Justice Sir John Muria, Chief Justice Carl Ingram, Justice Mataomaile Tuatagaloa, Chief Justice Sir Albert Palmer, Chief Justice Arthur Ngiraklsong, Chief Justice Dennis Yamase, Chief Justice Filimone Jitoko.
The Pacific Judicial Strengthening Initiative (PJSI) is funded by the Government of New Zealand from June 2016 to December 2021.
PJSI looks to address the needs of 15 Pacific Island courts, relating to expanding access to justice to and through the courts; building competent provision of substantive justice outcomes; and increasing efficient delivery of procedural justice services.
Prior to June 2016, it was the Pacific Judicial Development Programme 2010-2015 (PJDP).