Home
Promoting judicial leadership through locally driven change management and performance of court services. More »
Key Themes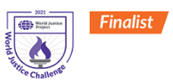 Finalist of the World Justice Challenge 2021
PJSI was a finalist in the World Justice Challenge 2021: Advancing the Rule of Law in a Time of Crisis competition!
Check out our project page external link.
The Pacific Judicial Strengthening Initiative (PJSI) was funded by the Government of New Zealand from June 2016 to December 2021.
PJSI looked to address the needs of 15 Pacific Island courts, relating to expanding access to justice to and through the courts; building competent provision of substantive justice outcomes; and increasing efficient delivery of procedural justice services.
Prior to June 2016, it was the Pacific Judicial Development Programme 2010-2015 (PJDP).
PJSI and PJDP were implemented by the International Programs Unit of the Federal Court of Australia. The Government of New Zealand is continuing funding through the Pacific Justice Sector Programme.